PROVISION Ranked in Canada's 100 Best Restaurants 2018
This is an elite list, voted on by food critics, leading chefs, restaurateurs and elite diners and Provision is honoured to have made the cut.  Come on in book a table and see why we were voted into the Canada's 100 best restaurants for 2018.

See Our Listing >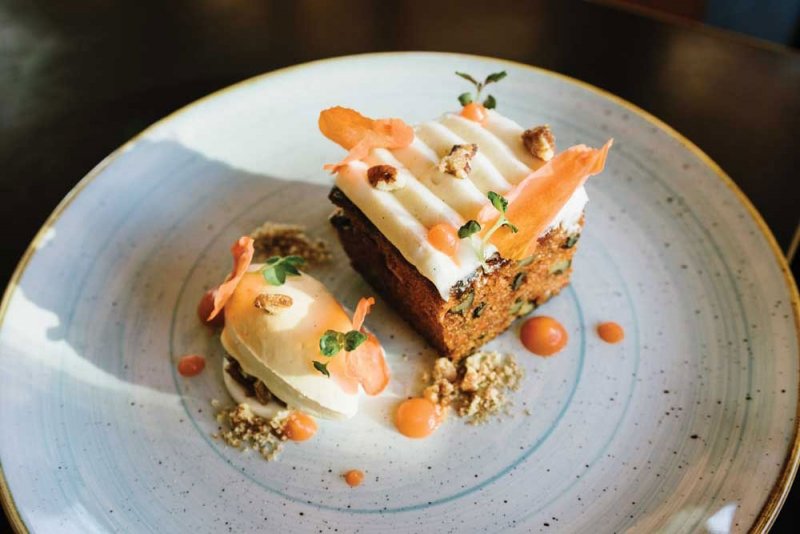 LATEST NEWS: Provision | Calgary's 25 Best Restaurants
F
ollowing the success of River Café on Prince's Island Park, the City of Calgary built a restaurant structure in Central Memorial Park in 2010 as part of the park's redevelopment. Boxwood resided there for five years but when the lease came up, owner Sal Howell decided to concentrate on her new Deane House instead.
READ FULL ARTICLE >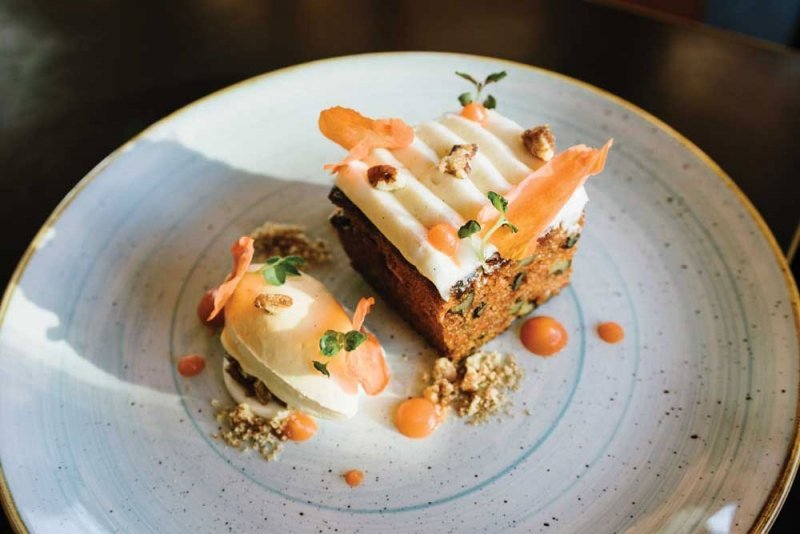 Provision | Calgary's 25 Best Restaurants
OOD | Vegetable-forward contemporary Canadian.
VIBE | Friendly and cozy.
DECOR | Upscale lodge in a park setting.
DISH | Roasted Brussels sprouts with guanciale, pecorino, candied walnuts and aioli.
TIP | Try to get out on the patio on a summer day.

Read The Full Article >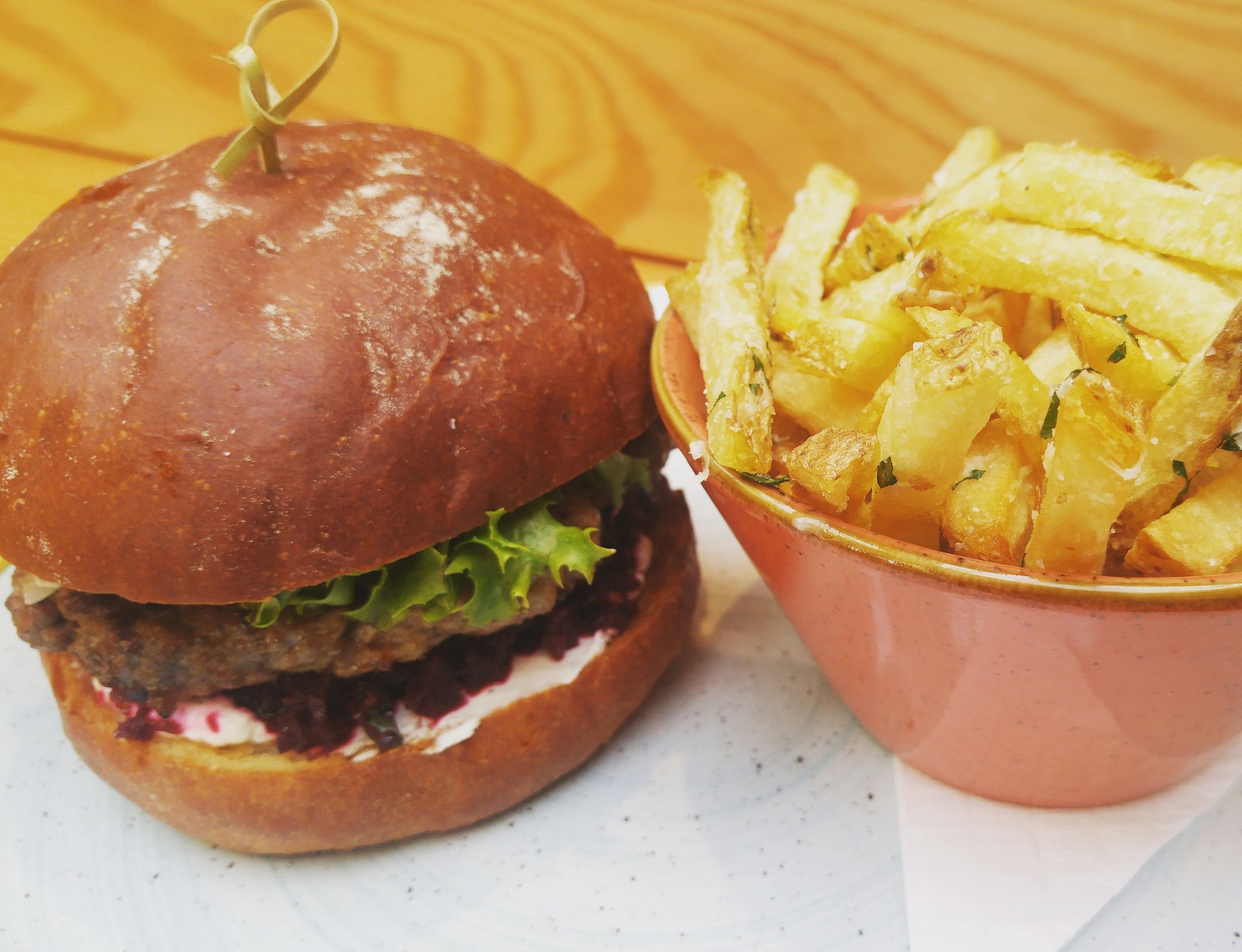 Honeyed Sea Foam and Chèvre Apricot Macarons: A Dessert Crawl Through Calgary
This restaurant is a testament to Calgary's progressive food scene; the vegetable-forward concept is a welcome breath of fresh air in a city known for its meat-centric predilections. And pastry chef Kevin Yang really shines with his dessert offerings. Perhaps most delicious is the matcha and honey creation: a domed vanilla bean custard infused with local honey butter nestled atop a matcha genoise and hugged by matcha sablé rings. But wait, there's more: The whole dish is surrounded by concentrated matcha latte gel, honeyed sea foam, and honey butter chips.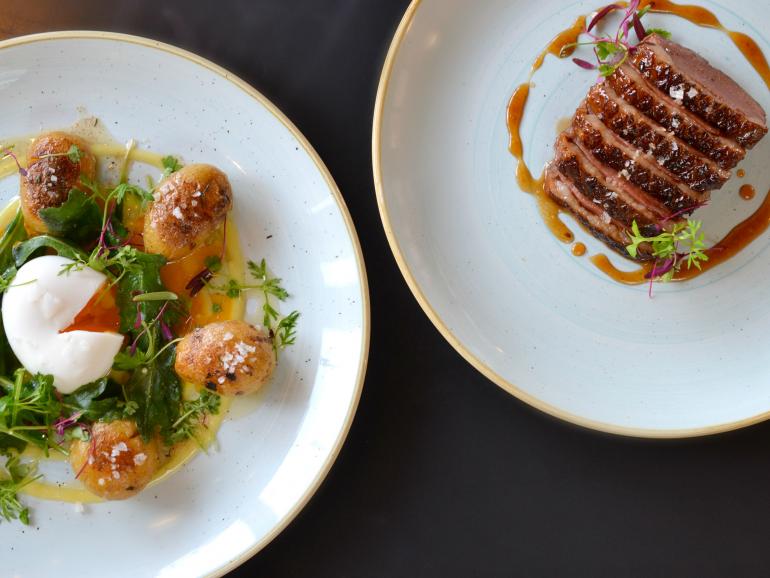 FIRST LOOK: PROVISION
It's hard to argue that Central Memorial Park in the heart of Calgary's Beltline is not one of the most beautiful urban green spaces we have in the city's core, save perhaps Prince's Island Park. The park, studded with statues, pathways and trees embraces all seasons. Whether it's blanketed in white in December or bright green with its fountains full-motion, there is a rarely a time that is doesn't seem inviting.
To be a restaurant nestled into a small building in such a charming environment is a lucky one indeed, so when Boxwood Cafe announced that they would be closing their doors after five years in the park, I'm sure it only took mere moments for other restaurateurs to strive to attain it. Now with new owners, Jackie Cooke and Kirk Shaw of Avec Bistro , and a glossy new name, Provision , the cozy park restaurant is ready to show you what it has to offer.
"We built our concept around the size of the cozy space, including the plates, glassware and grazing style of eating," explains co-owner, Jackie Cooke. "Our chef, Daniel Pizzaro has previously worked at the Michelin-starred L'Arpège and Spring in Paris. He has been wanting to focus on vegetables for a long time and to have more creative freedom with the menu [than with the French bistro]. We aren't focusing on any particular culinary region, which is definitely different to the French-style of food people enjoy at Avec."
The bare bones of the restaurant space have always exuded a certain coziness with warm wooden beams running across the ceiling and plenty natural light from west and north-facing windows. Designer, Connie Young (10 Foot Henry, Workshop) has further warmed up the interior with banquet seating that wraps the entirity of the room, more or less complemented by brass accented tabletops and leather chairs. The central open kitchen is now framed by big slate tiles and Caribbean blue tiles pop on the front of the bar that surrounds it.
The dishes here my remind one of Avec's visually, but the comparisons end there. With vegetables front of mind, chef Pizarro is encouraging patrons to have a little less meat with their meal and discover how delicious winter vegetables can be. The crispy, roasted brussel sprouts come on top of a rich lemon butter sauce, accented by garlic, thyme and shaved pecorino. Then there is the plate of smoky baby potatoes with brown butter, roasted garlic and greens topped with a soft-poached egg. Charred kale with earthy oyster mushrooms and the list goes on…
Taking an interesting approach to the proteins here, as a means to compliment the vegetable creations, diners can opt for either three or six ounce portions of black angus beef tenderloin, sliced duck breast with anise and rooibos glaze, roasted pork belly or lamb sirloin with black garlic.
Over the lunch hour, Provision serves up the aforementioned vegetable dishes along with a mix of sandwiches like the roasted chicken clubhouse on house-made sourdough bread and a house-ground burger. Pastry chef Kevin Yang is in charge of the bread program here, so whether you're having toasted bread beside a bowl of soup or biting into a burger bun, it's likely been baked that morning. As well, Yang –who was previously working as the pastry chef of Market– is also busy in the kitchen, making cookies, buttery scones and artistic dessert plates like his intepretation of a carrot cake in the form of a carrot and mascarpone cheesecake with vanilla carrot puree, walnut milk gel and walnut brittle.
"The park is amazingly beautiful and has such a rich history, including being a memorial landmark," explains Cooke shortly after opening her new restaurant in Central Memorial Park. "We really wanted to consider this when we named the restaurant Provision and also with subtle underlying design that Connie Young has brought to the space. This park is very special to a lot of people and we feel very lucky to be here. Now we can't wait for warm weather and the gorgeous patio!"
340 13 Ave S.W.
403-263-0766
provisionyyc.com
social: @provisionyyc
New Restaurant: Provision
Operating out of a publicly owned building in a park can present challenges to a restaurateur, but it also allows for a certain sense of creativity. When Jackie Cooke and Kirk Shaw took over the former Boxwood restaurant location in Central Memorial Park last fall, they knew that they were working with a small space — something they were accustomed to with their other restaurant, Avec Bistro . With no choice but to create something that is intimate and respectful of the surrounding park, they developed a concept that is reflective of the seasons.
Like many restaurants, Provision 's food philosophy is strongly dictated by seasonality — both in what's available, produce-wise, but also by what feels right as diners gaze out the windows at the environment around them. Chef Daniel Pizarro (who is also the chef at Avec) regularly switches up his vegetable-focused menu to reflect what's going on outside — offering heartier braises in the winter and lighter fare in the summertime.
As with Avec, while food is important, Cooke and Shaw are just as concerned about making sure their customers are drinking well. Space issues mean the wine, cocktail and beer lists are all fairly short, but Cooke, who is also the sommelier at both her restaurants, sees that as a chance to carefully curate, rather than limit, the wines on offer. "The wine list changes frequently," Cooke says. "It's divided into two sections: spring/summer and fall/winter. At Avec, I organize the wine list by weight, but here the wines are organized by how they relate to the seasons."
The other thing about the small room that excites Cooke is that she's able to hold regular wine-tasting and pairing dinners, something that can be risky for larger restaurants with more seats to fill. Keep your eye on Provision's calendar for ticketed events featuring special menus from Pizarro paired with wines that are near and dear to Cooke's heart.
340 13 Ave. S.W., 403-265-4006 , provisionyyc.com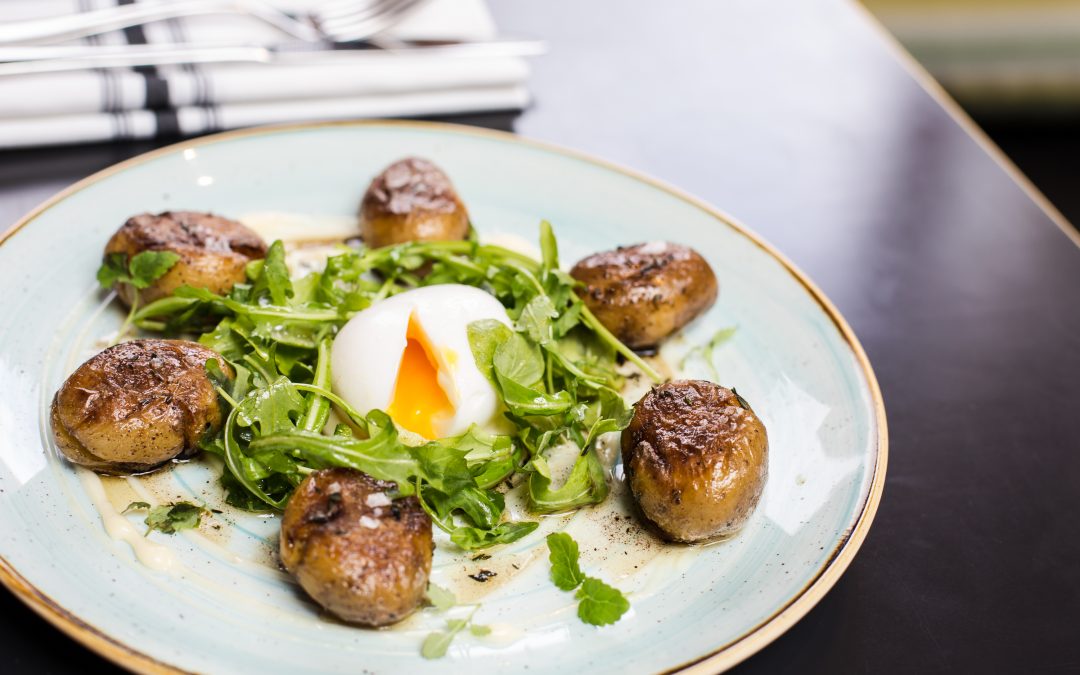 Provision's Signature Smoked Potatoes
Ingredients
450 g baby creamer potatoes
2 Tbs kosher salt
2 Tbs butter
1 egg
Dash olive oil
Squeeze of lemon
1 cup wood chips (cherry)
Arugula for garnish
Preparation
Place potatoes in a medium sized pot. Fill with cold water and add salt. Gently simmer potatoes for one hour, until completely soft. Strain and cool.
Place the cooled potatoes on the counter, and gently apply pressure with your palm until you feel the skin split. Only crush slightly or the potatoes will be too overwhelmed with smoke.
In an old stovetop vegetable steamer, place your woodchips in the bottom of the pot. To get the woodchips going, place on low-medium heat on the stove. With a torch or barbecue lighter, light the chips.
Once the chips are on fire, place the potatoes in the perforated top and put the lid on (the fire will die out due to lack of oxygen). Leave the heat on for five minutes, then turn off and let sit for an additional five minutes.
After the potatoes are smoked, place them in a pan with some foaming butter on low heat, turning every two minutes to get nice, crispy skin.
Season the potatoes, and then finish with a little garlic aioli, a soft poached egg, and some arugula dressed with olive oil and lemon.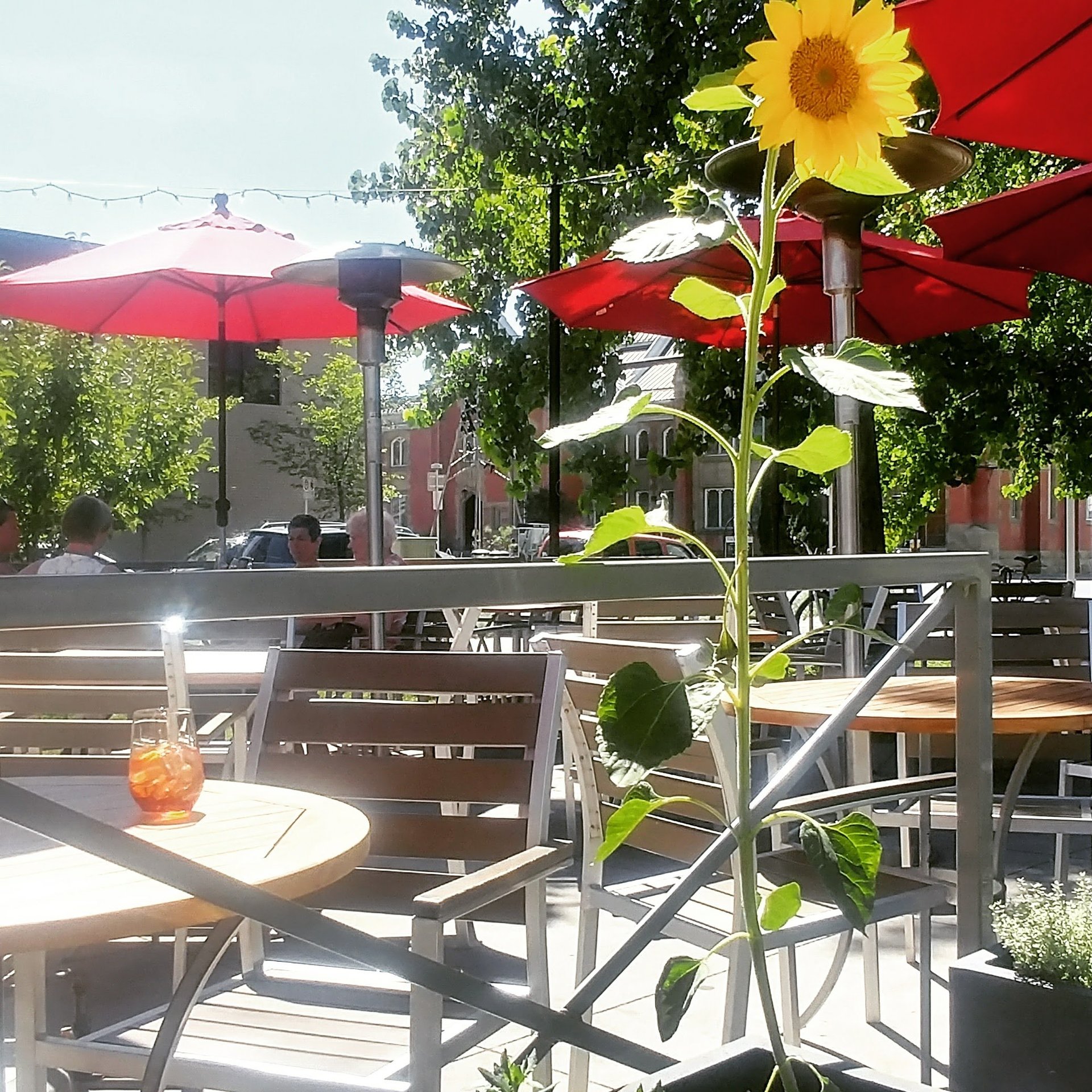 MORE PATIO SESSIONS IN VIC PARK
Provision – Situated in the middle of Central Memorial Park, Provision is a little cabin in the heart of Calgary. Vegetable forward cuisine, Alberta protein and family-style dining is brought to a whole new level here. Serving lunch and dinner throughout the week, and brunch on weekends, Provision creates exquisite meals all day long. There is no better place than the Provision patio in the park to crack open a bottle of wine with friends and family.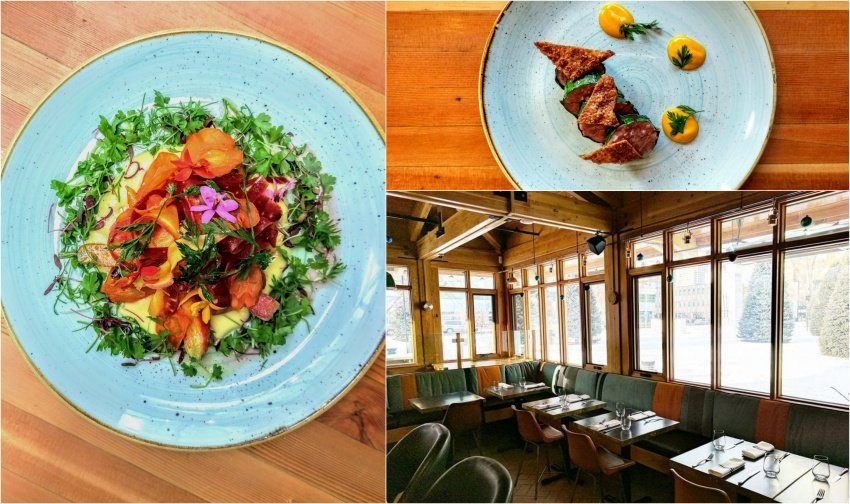 Canadian Prairies' best new restaurants of 2017
Understated and overlooked are two words that come to mind when I think of this restaurant in Central Memorial Park. From the same owners of Avec Bistro,
Provision
offers interesting and beautifully composed dishes courtesy of chef Daniel Pizzaro (who I still think is one of the most underrated chefs in the city) and a concise, well-curated wine list courtesy of co-owner Jackie Cooke. With a preference for vegetables, the chef works wonders with humble ingredients like cabbage (charred with garlic bread crumbs, sorrel, chili aioli) or celeriac, which is brunoised and served risotto-style with parmesan, earthy truffle and a poached egg. The baked-daily cookies are always simple, delicious and a perfectly sweet antithesis to the vibrant plates of food one has just enjoyed.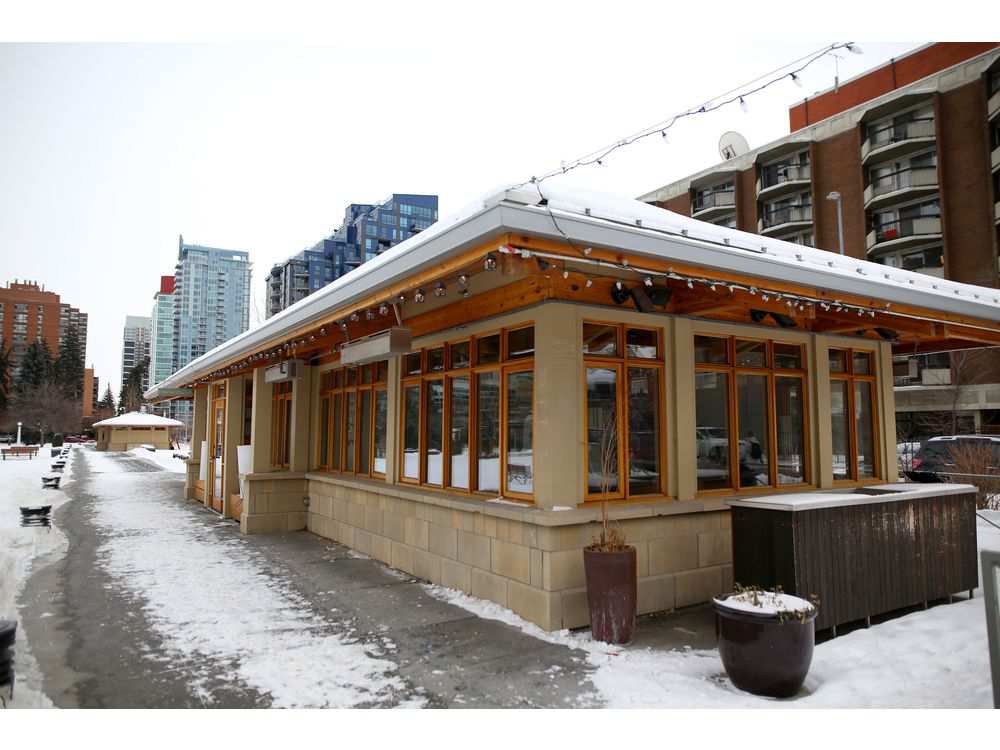 Gilchrist: Best new restaurants of 2017
7. Provision
The restaurant in Central Memorial Park formerly known as Boxwood has been taken over and refreshed by Jackie Cooke and Kirk Shaw of Avec Bistro. It's light and lodgey with Daniel Pizzaro's skilled menu of roasted Brussels sprouts, charred cabbage and lamb saddle with chickpea puree.
340 13th Ave. S.W., 403-263-0766 , www.provisionyyc.ca
More Posts